Around La Corte del Macero, bed and breakfast Castelfranco Emilia (Modena)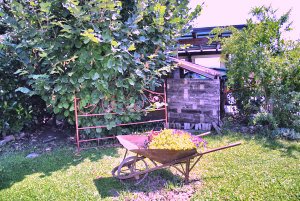 The Emilian area is a cradle of excellence of refined food products, know all over the word, which you can easily taste on our food and wine itinerary: from the Balsamic Vinegar IGP (Italian for Protected Geographical Indication) from Spilamberto (Modena), the William pear grown in our rural area, the well-known Parmigiano Reggiano, the Toortellino traditional from Castelfranco Emilia, the Bolognese sauce, the IGP potato from Montese, our black and white truffles, the Parma Ham, the Barozzi pie, up to our renowned IGP wines such as the Lambrusco Grasparossa, the Lambrusco di Sorbara, the Lambrusco di Castelvetro, the white Pignoletto and the famous handcrafted beers.
The areas around Modena and Bologna are not only this: our romantic Bed & Breakfast at Castelfranco Emilia (Modena) also organizes touristic tours to discover the Emilian architectural and artistic pearls, our castles, our famous ceramic tiles companies on the territory (including the Majolica tiles from Sassuolo)
The Tradition that has made Modena and Bologna famous all over the world is without a doubt the sports cars industry; a lot of people think of Modena and Bologna as the real world capital of the sport engines. Enzo Ferrari, the founder of the famous company Ferrari, was born in Modena, his birth house can be visited at only 20 minutes from our romantic Hotel. In Viale Ciro Menotti, in Modena, you find the Maserati plant, with it's museum, and you can also visit two private museums Stanguellini and Panini, where there often are important events which attract thousands of Sports cars enthusiastic.
How to forget the unique Lamborghini plant at Sant'Agata Bolognese, the Pagani at San Cesario, the Ducati at Borgo Panigale and so on.
The Bed & Breakfast la Corte del Macero, is located in a calm area a few Km from the toll house of Borgo Panigale and Modena Sud; from our homey and romantic bed & breakfast you can reach in a few minutes all the focal points in Bologna
The bed & breakfast la Corte del Macero during summer also organizes field trips by bike or horse riding, in order to admire the many bird species which come in our area to nest, and other protected species that inhabit the area around us.
We are open all year-round, please contact us with no hesitation, we will be glad to answer to your requests and help you satisfy all your demands.